Posted by Jentri Quinn on May 14th 2018
Welcome to my latest luxurious and refreshing creation -- Orange Creamsicle Body Scrub Duo. It smells so good you'll wanna eat it! All my body care products are handmade in small limited edition batches (in Austin, TX) using 100% natural (organic sugar) ingredients. This one features orange peel and is infused with our extra virgin olive oil from Italy, of course! This product exfoliates and moisturizes with the added benefit of Vitamin C to leave you with a nice glow! It's ideal for dry, mature, sensitive, damaged, and hyper-pigmented skin. And to boot, it really is ALL NATURAL with self preserving oils and no artificial preservatives.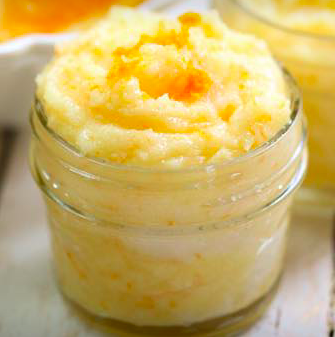 So why orange peel?

Orange Peel has a very high level of Vitamin C, helping to brighten skin, exfoliate/ remove dead skin cells, and reduce blackheads. Vitamin C helps the body to form collagen and elastin which will keep your skin looking younger!
In my twenty something years of being in the beauty industry, with 6 of them being a licensed esthetician, I've learned to understand the many ways Vitamin C can help our skin. Not only does Vitamin C boost our immune systems when we take it internally but it showers us with pure goodness when we apply it externally. There are different forms of vitamin C, so not all are created equally. Some can be more easily absorbed than others, but that's a long, different post. Vitamin C based skin care products are always apart of my regime and often what I recommend to clients who want to naturally brighten the appearance of uneven skin.
You can currently pick up this flavor creation of the week at our store, COTONE, located in The Domain, while supplies last! We are currently located at 3220 Amy Donovan Plaza, suite 124, next to Dick's Sporting Goods.
Questions? Suggestions of what you'd like to try next?
I always love to hear from you!
xoxo
Jentri