Posted by JQ on Jan 9th 2023
Hey Beautiful!
If you want to brighten up your eye area while preventing caking and creasing, this is for you!
You can incorporate this easy quick-fix into your daily skincare routine before you ever apply your eye makeup!
This skincare pro tip helps smooth out the appearance of fine lines and wrinkles while instantly brightening up your entire eye area.
To brighten dark under-eye circles start by prepping your under-eye area with a caffeinated eye cream a few minutes before applying your concealer. This works because it constricts blood vessels that help negate your dark circles and puffiness so that you're less likely to overuse makeup.
Prepping your skin and under eyes is very important because your skin often dictates the way your makeup will look (i.e. think of when you have a scab, pimple, or scar and you try to apply makeup over it) so I always recommend prepping the skin properly with a good moisturizing face cream and eye cream to help prevent flakey dry patches. Doing this will also help reduce the appearance of wrinkles and crepey skin.
Proceed with these next 3 easy makeup steps to keep your eye area looking youthful all day long!
1. Use an under-eye primer. Primers work because they contain special ingredients, like silicones, that help smooth out the texture of your skin (and wrinkles!) and help your makeup stay on longer. While it's true that primer may not be right for everyone, especially if you don't wear makeup, don't have any textural issues or wrinkles, or simply don't want to apply it, it still plays an essential role that moisturizer alone will not play.
2. Use a full-coverage creamy concealer. It's a common misconception that if you apply creamy concealer you'll have "creamy wrinkles" but any makeup you apply too much of will cake or crease! The truth is that your under-eye area gets drier as you age because you lose things like Hyaluronic Acid and Collagen, so a creamy concealer will not only provide you with more hydration but it'll also provide you with the full coverage that's often needed to cover up any imperfections, like age spots and dark circles.
3. Use a highlighter under your brow area. When you have puffy or dark eyes, you especially have to be careful because if you apply the wrong type of highlighter(s) in the wrong area it'll make your eyes appear more puffy or hooded. The simplest beauty hack to help lift your eyes is to use a highlighter, like our Matte Beige Brow Highlighter, that doesn't have sparkle or shine. Since it's matte, it gives you the opportunity to use it in more ways than you can count, and best of all -- its tackier consistency makes it ideal for staying on all day long! Watch this viral TikTok tutorial on how to give yourself an instant eye lift in seconds using our magical highlighter.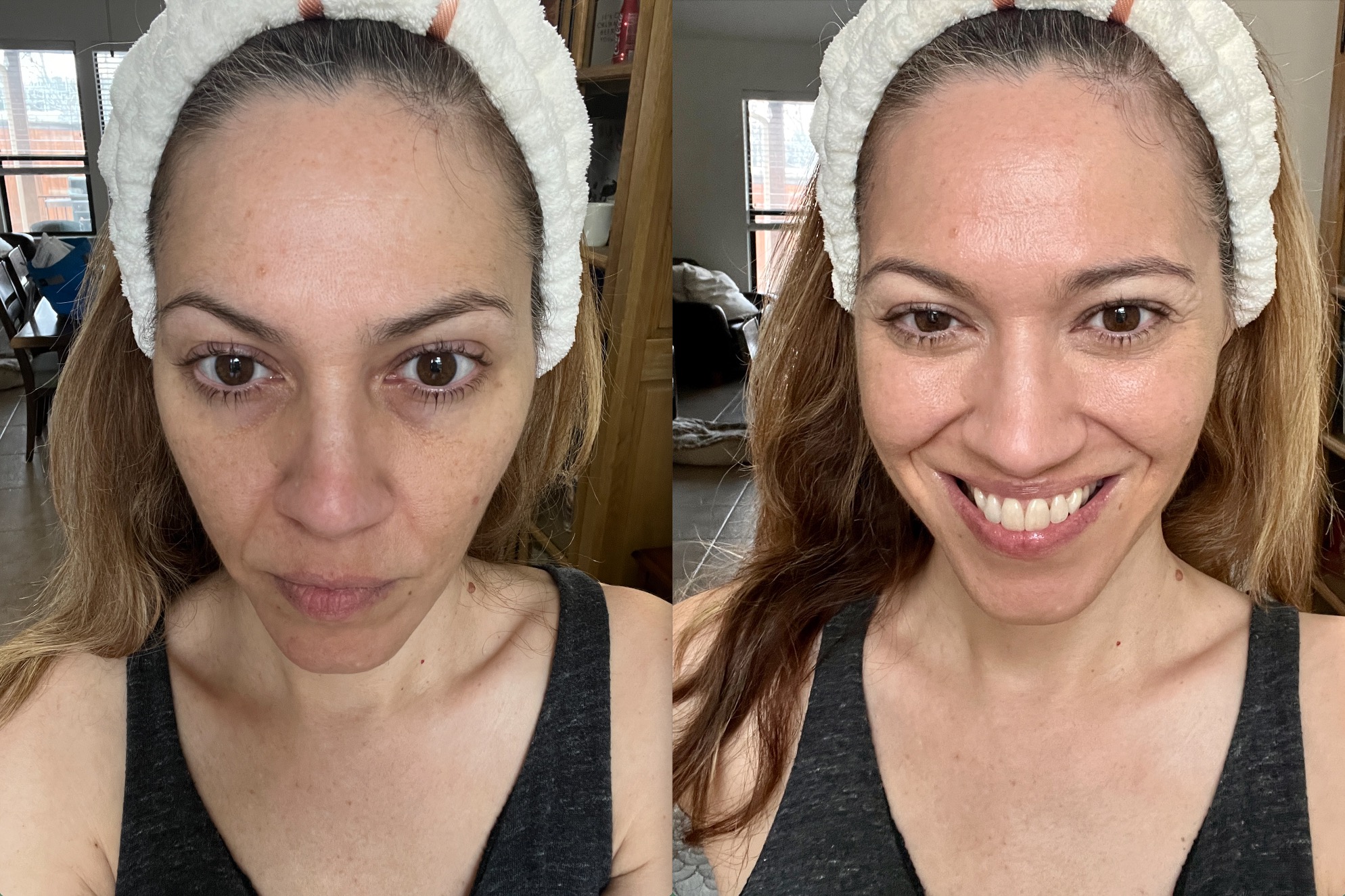 This is a before and after image I took of me only using the products mentioned above so you can see the clear difference in my dark set eyes and the over all smoothness of my skin and entire eye area - we never use any filters or add-ons like the big box brands do in their ads, just me and my trusted JQ!
NO other skincare, makeup products or filters were used in these before/after images.
Makeup bonus tip! Always pat a setting spray over your concealer to ensure your under-eye makeup stays in place all day long and doesn't cake or crease.
Remember the more you know the more you glow!
With love,
Jentri
ps. JQ Products used in image above and discussed live on Studio 512: Eye Dream of Coffee, Priming Duo, Concealer, Highlighter & Setting Spray by Benefit
Watch us now on Studio 512!